The list of words given below is to help you learn both English and Spanish vocabulary used in the culinary sector, in order to understand their respective translations in these two languages.




El listado de palabras que se da a continuación es para ayudar a conocer tanto en ingles como en español el vocabulario que se utiliza dentro del sector culinario, con el fin de conocer sus respectivas traducciones en estos 2 idiomas.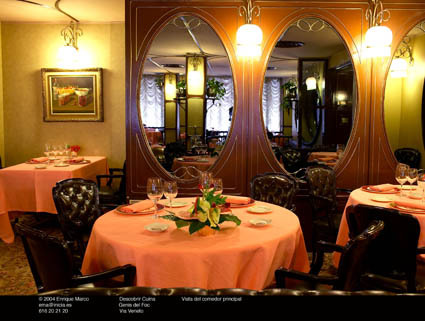 The Staff (El Personal)
Assistant

Waiter / Busboy: Asistente de mesero

Baker

: Panadero

Bartender

: Barman - Encargado de preparar tragos y bebidas

Bar

server: Mesero de bar

Cashier

: Cajero

Chef

: Persona a cargo de la preparación de comidas en un hotel o restaurante.

Chef

de partie: Chef a cargo de una sección específica de la cocina

Commis

: Asistente del Chef de partie

Cook

Cocinero

Headwaiter

: Jefe de meseros

Kitchen

assistant: Asistente de Cocina

Maître d'

: Persona a cargo del servicio en un restaurante.

Meat

chef: Chef de carnes

Pastry

chef: Chef de postres

Restaurant

manager: Gerente del Restaurant

Salad

Chef: Chef de ensaladas

Sauce

Chef: Chef de salsas

Sommelier

: Término francés para el encargado de recomendar y servir el vino.

Sous-chef

: Segundo al mando en la cocina, asiste al Chef.

Waiter

: Mesero

Waitress

: Mesera

Wine

waiter: Expresión en inglés para referirse al mesero encargado del vino.
Restaurant sections (Secciones del Restaurant)
Bakery

: Panadería

Bar

: Bar / Barra

Cloakroom

: Guardarropía

Dance

floor : Pista de baile

Dining

room . Comedor

Garden

: Jardín

Kitchen

: Cocina

Dishwashing

area / section : Área de lavaplatos

Fish

area / section : Sección de pescados

Meat

area / section : Sección de carnes

Pastry

area / section : Sección de postres

Sauce

area / section : Sección de salsas

Pantry

: Despensa / Área de preparación comidas frías.

Storeroom

: Almacén, bodega

Vegetable

area / section : Sección de verduras

Walk-in fridge

: Frigorífico – Cámara refrigerada

Lift

(UK) / Elevator (US) : Ascensor / Elevador

Lounge

bar : Sala de bar con sillones más confortables

Non

-smoking area / section : Sección no-fumadores

Parking

lot : Estacionamiento

Piano

bar : Bar donde se puede escuchar música de piano en vivo.

Private

dining-room : Comedor Privado

Reception

: Recepción

Roof

garden : Jardín de la azotea

Smoking

area /section : Sección fumadores

Terrace

: Terraza

Toilets

: Baños

Gents

: Caballeros

Ladies

: Damas

Wine

Cellar : Bodega de vinos
Meals of the Day (Comidas del día)
Early

Birds Breakfast : Desayuno que se sirve muy temprano, usualmente antes de las 8 de la mañana. Generalmente el desayuno ofrecido en este horario no considera ítems que requieran preparación inmediata o que necesiten ser cocinados (Cereales, pan, selección de quesos y fiambres, mermeladas, lácteos, etc.)

Breakfast

: Desayuno

Brunch

: Comida que se sirve en el horario entre el término del servicio de desayuno y el comienzo del almuerzo y que reemplaza a ambos. Se trata de un concepto americano que ha sido introducido con éxito en los últimos años en hoteles, especialmente en aquellos destinados al turismo.

Lunch

: Almuerzo

Tea

Time / Afternoon Tea : Comida ligera consistente en bocadillos (snacks) que se consume al término de la tarde. Usualmente considera sándwiches, pasteles y té.

High Tea

: Comida contundente servida avanzada la tarde que usualmente posee un plato fuerte caliente o frío, además de bocadillos tales como sándwiches o pasteles. Se acompaña de té y es costumbre en lugares tales como el Norte de Inglaterra, Escocia y Gales.

Dinner

: Cena
Courses (Etapas o cursos de las comidas)
Appetizer

: Entrada

Soup

: Sopa

Broth

/ Consomme : Caldo

Creamy

soup : Crema

Clam Chowder:

Sopa de almejas

Salad

: Ensalada

Main Course :

Plato de fondo

Dessert

: Postre
Main Courses (Tipos de Plato Principal)
Meat

Dish : Carne

Fish

Dish : Pescado

Poultry

: Ave

Vegetarian

Dish : Plato vegetariano

Pasta

: Pasta

Side order / Side dish

: Acompañamiento / Guarnición.
Kitchen Equipment (Aparatos de la cocina)
Blender

: Batidora - Licuadora

Coffee-grinder

: Moledora de café

Coffee machine

: Máquina de café

Deep fryer

: Freidora

Dishwasher

: Máquina lavaplatos

Fan

: Ventilador

Food Processor

: Procesadora de alimentos

Fridge

: Refrigerador

Grill

: Parrilla

Microwave

oven : Horno microondas

Oven

: Horno

Stove

: Cocina (aparato)

Walk-in freezer

: Frigorífico
Kitchen Utensils (Elementos manejados por el cocinero durante la preparación de comidas)
Apron

: Delantal

Balance

: Balanza

Casserole

: Cacerola

Chef's

knife : Cuchillo de chef

Colander

: Escurridor

Cookbook

: Libro de recetas

Frying

pan : Sartén para freir

Gloves

: Guantes

Grater

: Rallador (Cheese Grater : Rayador de queso)

Kettle

: Tetera / pava

Ladle

: Cucharón

Lid

: Tapa (de ollas, frascos, etc.)

Mop

: Mopa

Pan

: Sartén

Peeler

: Pelador (de papas, frutas, etc.)

Pot

: Olla

Saucepan

: Sartén de salsas

Scissors

: Tijeras

Skewer

: Pincho, brocheta

Skimmer

: Espumadera : Paleta llena de agujeros con que se extrae la espuma de los líquidos o frituras en un sartén

Sieve

: Cedazo

Spatula

: Espátula

Strainer

: Colador

Tin/Can-opener

: Abrelatas

Wooden Spoon

: Cucharón de palo
Cooking and preparation methods (Verbos que describen preparación de comidas)
Add

: Añadir

Bake

: Hornear

Boil

: Cocer

Broil

: Asar a la parrilla

Butter

: Cubrir de mantequilla

Chop

: Cortar en trozos

Combine

: Combinar

Cook

: Cocinar

Cover

: Cubrir

Cut

: Cortar

Dip

: Sumergir

Drain

: Escurrir

Deep

-fry : Freír sumergiendo totalmente en aceite caliente

Fill

: Llenar

Fry

: Freír

Garnish

: Adornar

Glaze

: Glacear

Grate

: Rallar

Grill

: Asar a la parrilla

Marinate

: Marinar, adobar

Mash

: Moler / hacer puré

Melt

: Derretir, fundir

Mince

: Hacer picadillo

Mix

: Mezclar

Muddle

: Moler o aplastar ingredientes

Peel

: Pelar

Pour

: Verter

Refrigerate

: Refrigerar

Rim

: Ribetear

Roast

: Asar o tostar

Sauté

: Saltear

Sear

: Sellar, freír a alta temperatura por poco tiempo

Season

: Sazonar, condimentar

Shake

: Sacudir

Simmer

: Hervir a fuego lento

Skim

: Desnatar la leche o espumar el caldo

Slice

: Cortar en tajadas, rebanadas o lonjas

Sprinkle

: Espolvorear

Steam

: Cocinar al vapor

Stir

: Revolver, agitar

Strain

: Colar, escurrir, filtrar

Whip

: Batir
Preparation Methods: Nouns and adjectives (Adjetivos y sustantivos referentes a preparaciones)
Bit

: Una pizca

Bain

-marie : Baño María

Baked

: Horneado

Boiled

: Hervido

Chilled

: Enfriado

Coated

in breadcrumbs: Rebozado

Crushed

: Machacado

Deep-fried

: Frito siendo sumergido en aceite hirviendo

Fried

: Frito

Glacé

: Confitado

Grilled

: Asado a la parrilla

Home

made : Casero

Roast

: Asado

Sautéed

: Sofrito

Stew

: Estofado
Doneness (Puntos de cocción)
Rare

: Crudo

Medium

-Rare: A punto

Medium

: Término medio

Medium

-Well : 3/4

Well-done

: Bien cocido
Taste and texture (Adjetivos que describen sabores y texturas)
Bitter

: Amargo

Creamy

: Cremoso

Crispy

: Crujiente

Dry

: Seco

Salty

: Salado

Soft

: Suave

Sour

: Ácido

Spicy

: Picante

Sweet

: Dulce

Tasty

: Sabroso
Packing (Adjetivos relacionados con el envasado)
Bottled

: Embotellado

Canned

: Enlatado

Packed :

Empacado

Potted

: En conserva

Sealed

: Sellado